Ideal Values of the SAXA Group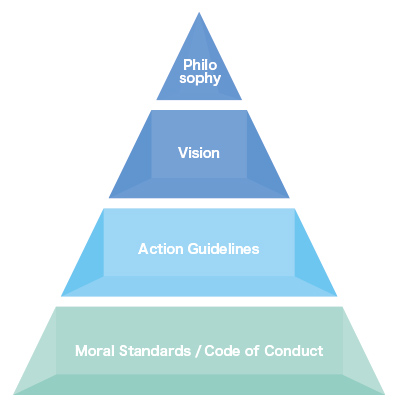 Create new value and contribute to the development of a vibrant and prosperous society with a focus on ingenious technology
Beyond Connecting Technologies
We strive to create a comfortable life,
in other words, safe, secure, comfortable, and convenient environments.
We are committed to bringing our technologies to the next level.
SAXA is the link with customers' needs for a better tomorrow.
①Act rapidly in good faith.
We will earn customer trust by adhering to moral and conduct codes with great integrity while taking rapid, fair, and sincere customer-oriented action.
②Act promptly with forethought.
We will take independent action first on insights discovered in day-to-day work. People who take independent action will encourage change in others to do the same. Seeing change inspires others and brings new insights, which in turn evokes further action. This cycle of action ensures ongoing growth.
③Step up to challenges without fearing innovation.
We will breakthrough convention by stepping up to challenges founded in new inspiration without fearing the innovation, which leads to tomorrow. The SAXA Group will go beyond existing concepts never satisfied with today toward sustainable growth.
④Act as Team SAXA.
We will flexibly adapt to change and achieve our goals as an effective team driven by mutual ideas through cooperation with other departments and Group companies in a dramatically changing business environment difficult to navigate alone.
Moral Standards/Code of Conduct
1

Earn satisfaction and trust from our customers by developing or providing safe, outstanding products and services.

2

Act in good faith by complying with all laws and regulations guided by a high moral compass in all business activities.

3

Disclose accurate corporate information in a timely manner to heighten transparency of our corporate activities.

4

Strive to preserve the global environment by recognizing environmental initiatives as material issues based on our environmental philosophy.

5

Engage in proper management by recognizing the value of intellectual property and importance of protecting personal information.